Photos: Caitlin Elizabeth and Joslyn Baker 
Sazón has only been in Santa Fe for two years, but in that short time has achieved more in terms of food, service and ambiance than many establishments achieve in decades. Chef Fernando Olea, his business partners Lawrence and Suzanna Becerra, Debra Olea, and Sazón's dedicated staff have recently been recognized with a coveted Four Diamond Award from AAA. The achievement ranks Sazón among the top two percent of restaurants nationwide.
"There's been a maturation process from everyone," says Lawrence, as he reflects on Sazón's tremendous past two years. "It's like a sports team coming together; everyone knows what part they need to play in order to achieve Sazón's vision."
One aspect of that vision is Chef Fernando's innate hospitality. Already revered for his culinary prowess, he adds his personal touch by regularly coming out and introducing himself to diners. "I really make a point of spending time with our guests," he says. "People always say, 'Thanks for taking the time to come out and say hi to us.'" Lawrence adds: "It's obvious to our patrons that Chef cares about their dining experience. That care translates to the staff, from the hostess to the servers. They pick up his vibe. We're real sticklers for service; we focus on the details."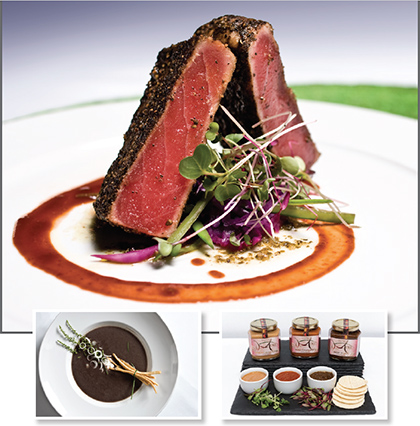 Chef Fernando has garnered a reputation far and wide. His signature Sopa de Amor has won many an award, and his bon marrow plate and dulce sinfonia dessert continue to be popular among diners. "The cream of poblano soup with crabmeat and amaretto foam was the most indulgent and complex soup I've ever eaten. Beautiful and serene atmosphere. The service was attentive and the chef came by to check on us and make us feel welcome," described one diner from New York. "Fantastic! Unbelievable combination of flavors and great presentation! Most original meal I have ever had," said another from Houston. Guests can take Sazón home with them by purchasing any one of their jarred to-go products. In addition to the Mole Negro, Mole Coloradito and New Mexican Mole – which have been available for purchase online or in the restaurant for the past several months—Olea recently added three new moles to-go: Pipian Rojo, Mole Verde and Mole Blanco. There are also three new salsas: Jalapeno Verde, Morita (a small chipotle chile) and Tacuba (a Thai chile). All can be shipped nationwide.
The Sazón experience begins the moment guests walk through the door; it's ambiance is in part due to the vibrant and colorful artwork adorning the walls. Suzanna Becerra is responsible for the restaurant's interior décor, and her bold vision makes for a stunning visual pairing with the menu. "My design for Sazón came easily, as I love many parts of Mexico," she says. Sazón recently acquired several new works by Mexico City's Julio de Rita, who is known for his enticing representations of the iconic Frida Kahlo. "The animation and energy of his work is very elevating," Suzanna asserts. "We want every individual to take away not only a gastronomical experience, but an enriching one too.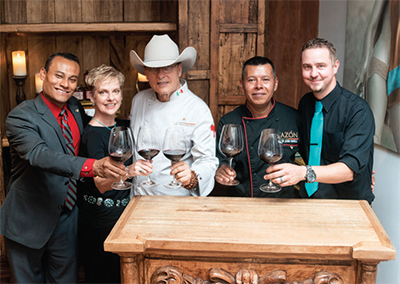 "Then there's the touted wine, tequila and mezcal offerings. The extensive bar menu is comprised of 74 wines from throughout Europe and the Americas, with a reserve list highlighting the best of the best. Sazón also offers world-class tequila, mezcal and sotol, with flights and tastings available. "Mezcal is the fastest growing spirit in the world," cites Lawrence, "and we have the most extensive mezcal collection in the state."
All this excellence has led to Sazón's recent recognition by AAA. The Four Diamond Award is only presented to the top two percent of restaurants out of a sampling of 31,000 food establishments across the country. Sazón underwent an anonymous evaluation at some point in the past year, and in June received a letter with congratulations on its Four Diamond Award assessment. Sazón is now one of only three local establishments with the distinction.
Additionally, Sazón has been recognized by Trip Advisor and Open Table. Lawrence stresses the value of receiving all three honors: while the Four Diamond Award is given by AAA—an institution comprised of industry experts—Trip Advisor and Open Table allow for client reviews, so recognition from all three demonstrates the well-roundedness of Sazón's acclaim. "We want to be around for a long time," Lawrence explains. "To do that, we continue to focus on service, food, presentation, ambiance and the overall experience." Chef Fernando chimes in: "We make everyone who comes to dine at Sazón feel welcome, as if they are friends and family being welcomed into our home."
---
Sazón | 221 Shelby St., Santa Fe | 505.983.8604 | www.SazonSantaFe.com