Photos Kerry Gallagher

Walking into John Rippel's store on Old Santa Fe Trail is a bit like walking into a flower garden; there is much to admire and pick! The longtime belt and buckle-maker has been in the business of crafting and selling high quality jewelry and leather products for over 30 years.
Rippel started making belts and buckles in the 1960s. He moved to Santa Fe in 1968, and fell in love with the Navajo combination of silver and turquoise. A self-taught silversmith, he developed a style he terms the Santa Fe look, but after customers wanted to wear his belts in business situations, he redeveloped his style into a more contemporary, clean look. Today, his belts are simple, elegant, suited for both men and women, and ideal for any number of styles.
Rippel describes his buckles as European, utilizing hand-engraving developed in England, Germany and Italy. He explains how a good buckle should have some weight, as well as design integrity. "One of the things that originally drew me to buckles is there are three different shapes involved, and all three should be coordinated into a cohesive whole," he explains.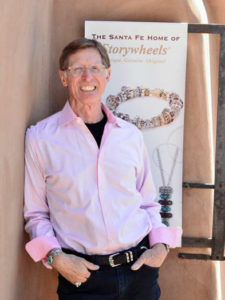 Beyond belts and buckles, Rippel's store features any number of jewelry and accessories. Take for instance Valerie Naifeh, who works primarily in high karat gold and gemstones. The 18, 20, 22 or 24 karat gold she uses is softer but more luminous than the typical 14 karat. "It's great for pins, earrings and pendants," Rippel notes. "It's a richer look."
Uno de 50 is another favorite in Rippel's shop. Out of Madrid, Spain, the company specializes in silver jewelry over a proprietary alloy. A funky layered look comprised of rings, necklaces, bracelets and earrings, "It's wear-able, fun and real popular," Rippel says. Uno de 50 rotates its inventory every six months, so part of its appeal is constantly creating new looks to play with. Storywheels™ were introduced to Santa Fe by Nancy Brown, the woman who ran Rippel's current space for 30 years before him. "The idea is it's gemstones around little wheels you wear as a necklace or bracelet. They call it a story because you're commemorating events in your life, places you've been, or family members," Rippel explains. "It's kind of like creating your own story through jewelry."
The glasswork in the store is done by Bob Hazeltine, Shel Neymark and Laura Cowan. Hazeltine was a master jeweler for 30 years who took up glass blowing in the last five years. His tumbler-style glass wear can be used as vase décor or put to use in the kitchen. "You can use them morning to night," Rippel describes, "from your breakfast orange juice to your dinner aperitif or evening nightcap."
Rippel also carries timepieces and writing tools by Porsche Design. The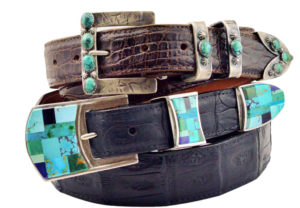 watches and pens imitate designs made famous by the renowned car company. Inspired by specific car parts, they make perfect gifts, especially in time for Father's Day.
Rippel represents several other local and international artists who specialize in everything from jewelry to leather. Much like meandering through a flower garden, you never know what beautiful thing you might find!
---
John Rippel U.S.A. | 111 Old Santa Fe Trail | John Rippel / Studio 403 | South Guadalupe St. | 505.986.9115 | JohnRippel.com